Steve Bauer was born in Leipzig on 13 March 1981. He is a freelance artist
and illustrator. Steve Bauer ́s large format art works are technically based on
classical fgurative drawings. However, during the work process, he integrates various other technical means and forms.
He focuses on monochrome works – especially black and white paintings with finely tuned gray tones.
Until 2016, he had mainly worked in acrylics, but since then he has also
discovered for himself oil colors and other techniques such as airbrush or
collages with relief-like surfaces. Ofen he exhibits his paintings with sound
and light-installations. His works refect themes of everyday life, encounters,
personal experiences as well as society. Such topics usually mirror the artist ́s
self-understanding to play a certain role in society, i.e. to recall important
value and norm concepts and bring them into the awareness of people.
Steve Bauer ́s works could be perhaps best characterized by the term "painted the-
me-collages", as he always tries to find the most succinct and typical elements of a theme and unites them in a very direct but profound manner in just one
single, unforgettable image. His theme-images could therefore be compared
to embossers or stamps the contents of which depict typical phenomena of
our times.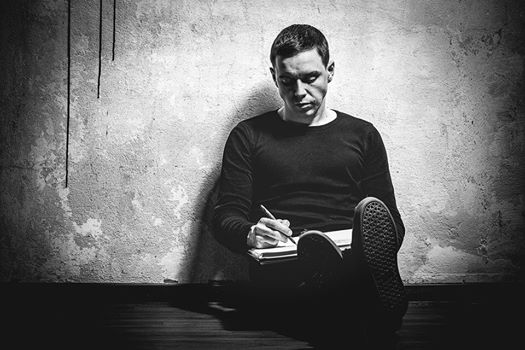 STEVE BAUER
End of 2006, I founded Skullpell Artwork in Leipzig because I wanted to bring my art to the people. Then, I used an alias. What began as a fancy turned into a vision and the vision became a purpose in life. Skullpell Artwork mainly served to advertise my own vision of art. Later, the alias had to go because it is under my own name now that I make my art accessible to others. I still use diverse forms of conventional and digital arts and craft.
Starting with pencil, brush, palette knife and right up to spray can and airbrush, I learned to handle all techniques. The painting grounds have changed, too. Had it been files and homework books in the past, today it is canvas and paper sheets the format of DIN A3.
I returned to art only in 2004. Since then, I have been constantly working on my ideas and projects. I adopted new techniques I had not known before in order to better express my ideas than in the past. Since then, brush, airbrush, tattoo gun and graph tablet have been dominating my life. Four wonderful means of expression to carry me on a never ending path of ideas and towards new worlds way beyond the borders of my imagination.
Meanwhile, I have established my own art gallery "Raum 16" in Leipzig. On the premises of "Werk 2" in Leipzig-Connewitz, I do not only show my own art works but also paintings and images of friendly artists from Leipzig and the world.
A visit to the gallery is always worthwhile, not only for those interested in the fine arts. I am looking forward to meeting you there. You can get more information about "Raum 16" art gallery in Leipzig-Connewitz and the opening hours on the website of the art gallery.